Figures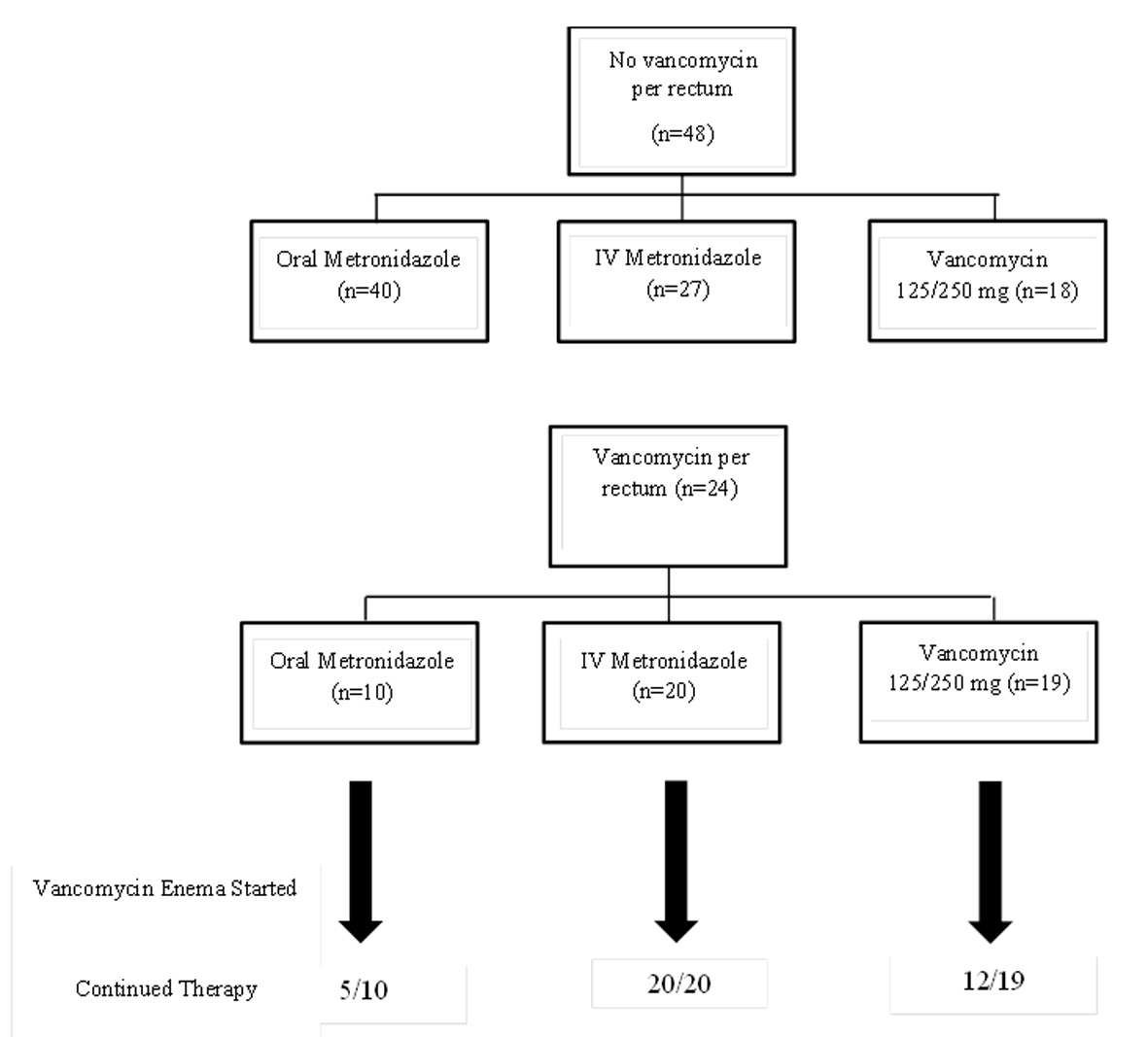 Figure 1. CDI treatment for the control group (top) and VPR group (bottom). To be listed as exposed to antimicrobial, the patient had to receive at least 1 day of that therapy. Number of antibiotics > number of patients due to concomitant therapy.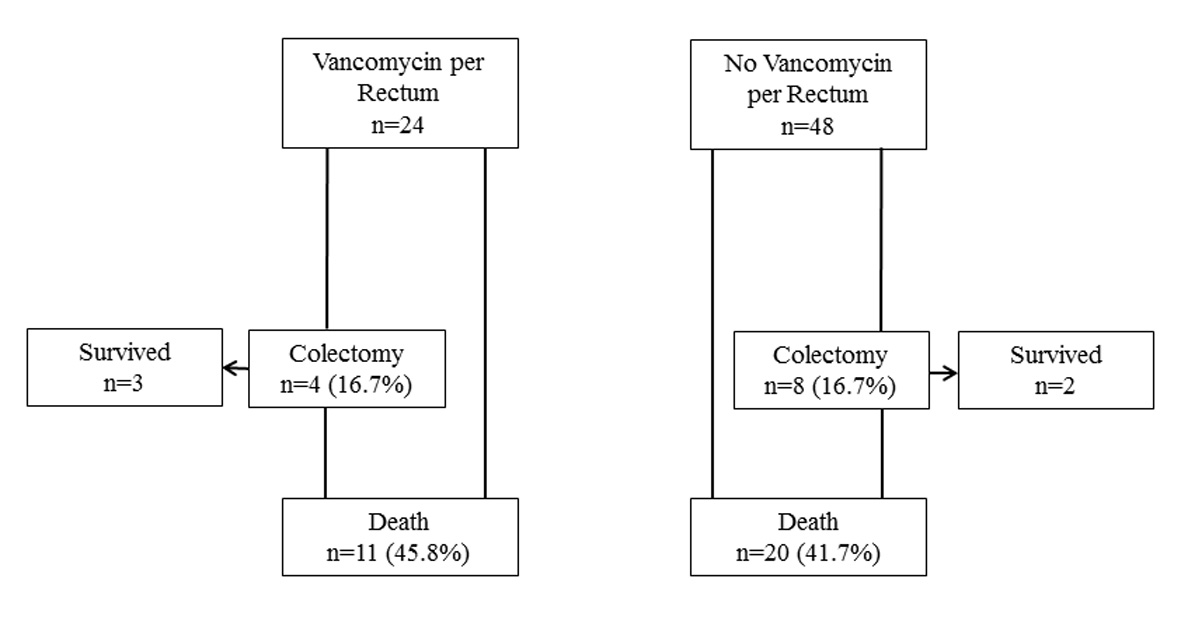 Figure 2. Flow chart for combined primary outcomes.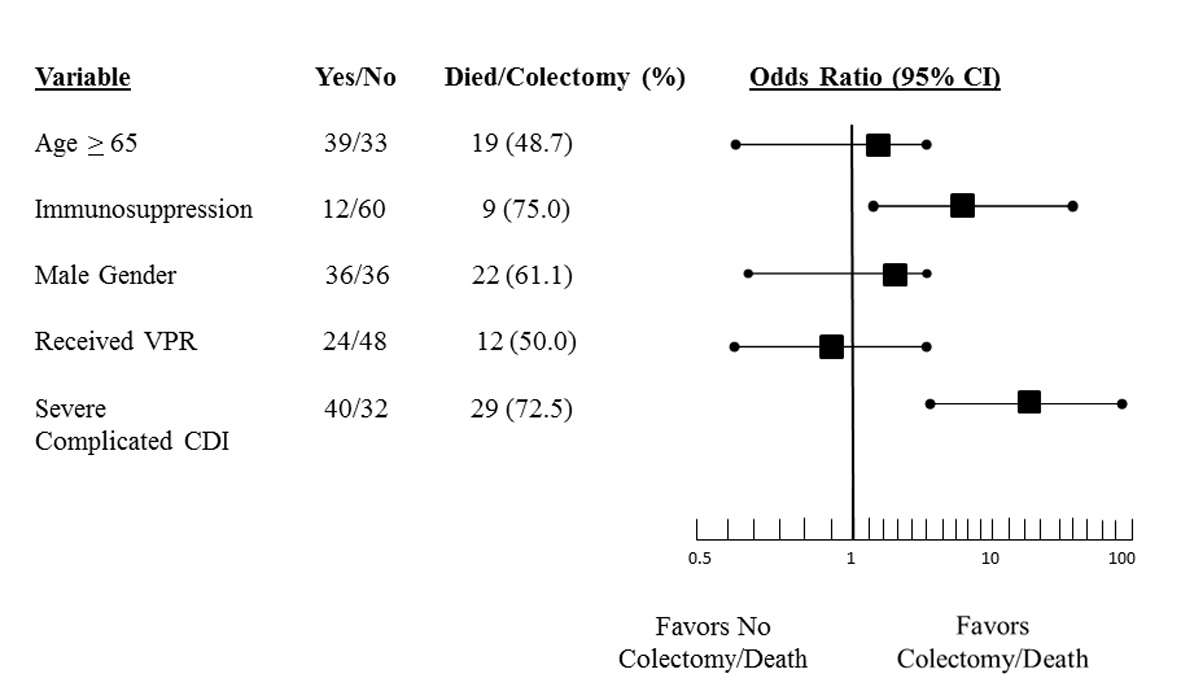 Figure 3. Plot of odds ratio and 95% confidence interval of variables independently associated with the combined endpoint of colectomy and death.
Tables
Table 1. Characteristics of Study Patients and Controls

All
Rectal vancomycin (n = 24)
No rectal vancomycin (n = 48)
P value
LOS: length of stay. *Includes prednisone ≥ 20 mg, antineoplastic, antimetabolite, and any immune modulator therapy.
Age (SD), years
61.3 (15.4)
61.8 (15.9)
61.1 (15.3)
0.86
Gender (% male)
36 (50)
11 (45.8)
25 (52.1)
0.62
Immunosuppression* (%)
12 (16.7)
4 (17.4)
8 (16.7)
0.94
Albumin (SD), g/dL
1.95 (0.63)
2.01 (0.59)
1.91 (0.66)
0.56
APACHE II (SD)
20.0 (5.4)
20.0 (5.4)
20.0 (5.5)
1.00
Overall LOS (median, IQR)
26.5 (16.5 - 46.5)
25.0 (19.5 - 37.5)
28.0 (15.5 - 48.0)
0.62
ICU LOS (median, IQR)
13.0 (2.5 - 25.0)
12.0 (0 - 27.5)
14.0 (3.5 - 23.5)
0.72
Episode severity
0.18
  Mild-moderate
4 (5.6)
1 (4.2)
3 (6.3)
  Severe
28 (38.9)
6 (25)
22 (45.8)
  Severe complicated
40 (55.6)
17 (70.8)
23 (47.9)
Table 2. Published Reports of VPR


| Author (year) | Case report or series (n) | Dose of VPR | Concomitant therapies | Comments |
| --- | --- | --- | --- | --- |
| Pasic et al [20] (1993) | Report | 2 g loading with 100 mg q6h and 100 mg PRN watery stool | No | Colitis resolution; death from sepsis on POD 52 |
| Shetler et al [21] (2001) | Series (7) | 250 mL of premixed solution (1 g vancomycin in 1 L sterile H2O) q6h | Yes (all IV metronidazole, 5/7 oral vancomycin) | Colitis resolution in four of the seven patients |
| Nathanson et al [22] (2001) | Report | 500 mg in 500 mL saline BID | Yes (IV metronidazole for 10/10 days) | Colitis resolution with discharge to home |
| Apisarnthanarak et al [23] (2002) | Series (9) | Variable (0.5 - 1 g q4 - q12h) | Yes (all IV/oral metronidazole, 7/9 oral vancomycin) | Resolution in 89% |
| Kim et al [24] (2013) | Series (47) | 1 g q6h | Yes (oral vancomycin and IV) | Resolution without surgery in 70% |